Regular price
Rp 202.000,00 IDR
Regular price
Rp 0,00 IDR
Sale price
Rp 202.000,00 IDR
Unit price
per
Sale
Sold out
Introducing our innovative Cute-ticle Oil (Yep, cuticle.) 💅
She *triples* up as a nourishing Cuticle Oil (infused with Vitamin B5 and E), helps strengthen your nails and also assists with easily removing your Gewel Gel Nail Sticker.
Experience the ultimate convenience in nail care with our easy-to-use twist-pen format and built-in brush. Our Cuticle Oil Stick is specially formulated to nourish and revitalise your nails through penetrating the surface.
As an oil, it also helps effortlessly remove gel nail stickers, ensuring no damage and a treatment after!

Key Features:
Dual-Action Formula: Our Cuticle Oil Stick combines the nourishing benefits of a cuticle oil with the effective adhesive-dissolving power required to remove gel nail stickers. It's a two-in-one solution that saves you time and effort.

Stick Format with Built-in Brush: The stick design makes application a breeze, allowing you to precisely apply the cuticle oil directly to your nail beds. The built-in brush ensures even distribution and provides a gentle massage for maximum absorption.

Nourish and Hydrate: Packed with enriching vitamins, minerals, and natural oils, our cuticle oil deeply hydrates and moisturises your cuticles, promoting healthy nail growth and preventing dryness and cracking.

Effortless Gel Nail Sticker Removal: Our Cute-ticle Oil Stick effectively loosens Gewel Gel Nail adhesive, making it easier to *literally* pop off gel stickers without damaging your natural nails. It's a game-changer! Simply lift the side of your Gewel, slide the oil in between your nails and Gewels. 

Compact and Travel-Friendly: Designed for on-the-go nail care, our Cuticle Oil Stick is compact and travel-friendly, making it ideal for touch-ups anytime, anywhere. Keep one in your purse, desk drawer, or travel kit for quick and convenient nail maintenance.

Professional Results at Home: Enjoy salon-quality nail care in the comfort of your own home. Our Cuticle Oil Stick helps you achieve healthier, stronger, and more beautiful nails without the need for expensive salon visits.

Refreshing Scent: Indulge your senses with the delightful aroma of our Peach scented cuticle oil. The pleasant scent adds a spa-like experience to your nail care routine, leaving you feeling relaxed and rejuvenated.
TIP: Avoid using Cuticle Oil prior to applying any manicure or pedicure. Thoroughly remove with alcohol wipe or soap & water before applying to your nails. 
Suited for after-care or growing out your nails. 
Ingredients: Grapeseed Oil, Amino Acids, BHA, Natural Keratin, Organic Calcium, Safflower Oil, Vitamin A, Vitamin d, Sesame Oil, Vitamin B-5, Silk Procaine, Natural Pan Phenol, Thymol & Methyl Glucose.
View full details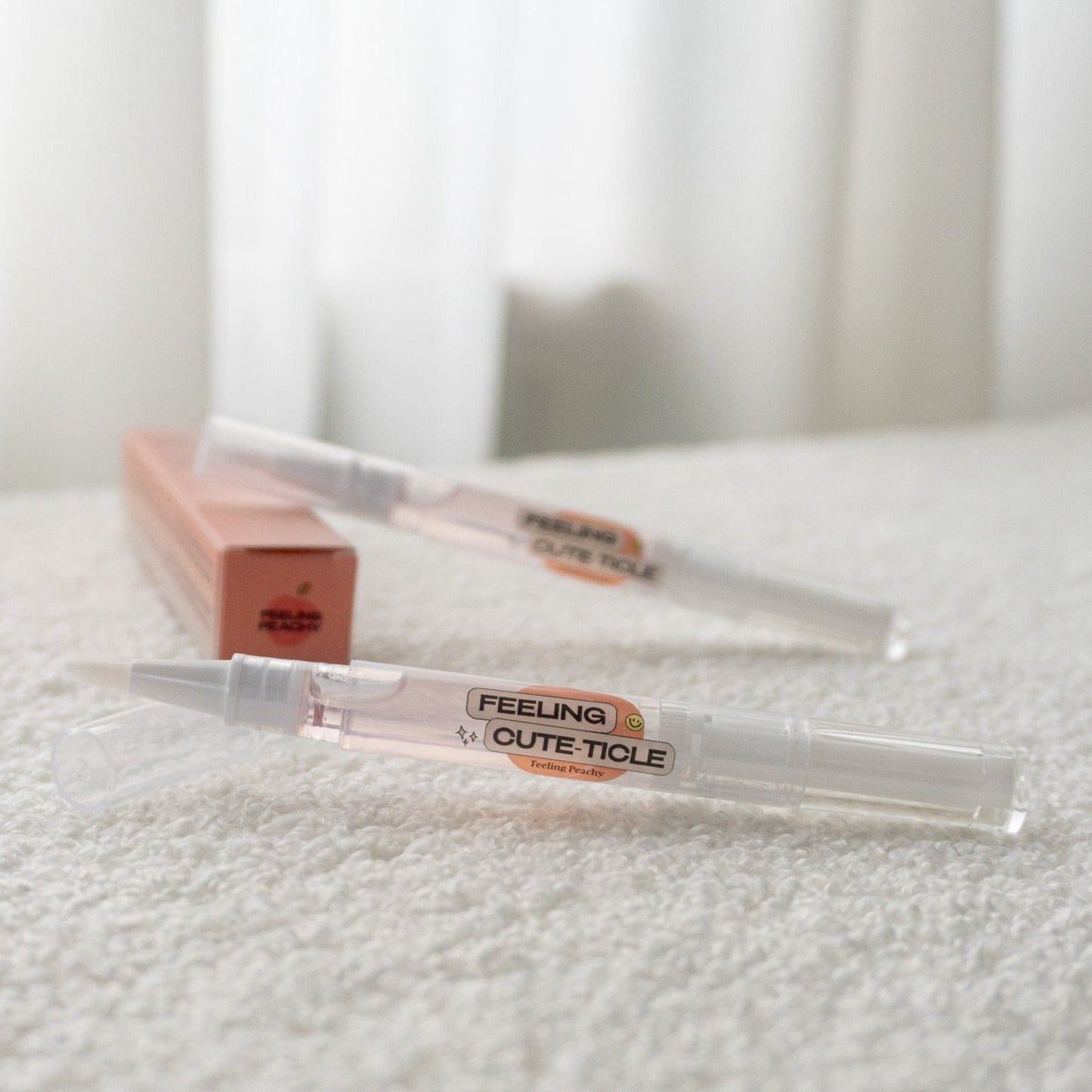 How easy to apply?
1. Prep your nails

2. Fit & Stick

3. File/Trim Excess

4. Cure & Done